Tuesday, 20th September 2016, 7:00PM
How good would it feel to be able to SWITCH OFF stress?
How would it feel to be able to SWITCH ON your higher brain centres to enable new ideas and a higher level of thinking?
What would you do with increased focus and memory?
Interested? then check out this intro video:
In this presentation, performance psychologist Chris Walton will share his research into peak performance states of mind known as the Flow State and The Zone.
You will learn 'The Gamma Brain Technique' which creates the peak mindset for personal change and accessing more of your potential in around 90 seconds and you will see a video of the brain activity measurement when doing this technique.
This technique has 4 main applications;
Direct access to your subconscious mind allowing you to change the outdated belief systems and thinking patterns.
To access a state of heightened awareness and creativity.
To find solutions to problems.
As a rest and renewal meditation.
Practicing this technique daily for just a few minutes brings many benefits including;
Aligning your subconscious mind with your conscious goals and desires so all of you is flowing in the right direction.
Switches OFF your stress response and retrains your emotional fight flightbrain
Switching ON your higher brain centres to enable new ideas and a higher level of thinking.
Increased focus and memory.
Heightened awareness and intuition
Testemonials
"Chris is a leading expert in this cutting edge science and the Gamma techniques he teaches create deep change in your brain and body and give you the power to tailor your own destiny."

Kazadi Kalangu M.D Brain Surgeon and Professor of Neurosurgery., Vice President of the World Federation of Neurosurgical Societies.
"As a direct result of Chris's performance coaching and belief change processes I won the British Open Tournament beating the world no.1 and achieved my career best no.3 world ranking."

Anthony Rickets Professional Squash Player
"In over 25 years of coaching world class athletes and business executives to perform at their best, Chris's Gamma Techniques are the most powerful and effective I've used."

Ole Bloch, 1980 Moscow Olympian and Executive Coach, Founder of the Institute of Management Coaching International.
About Chris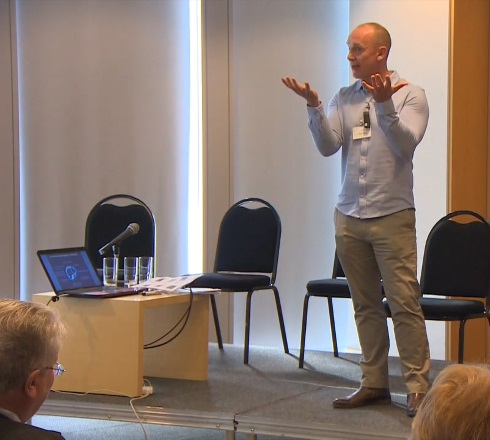 Chris is an internationally recognised performance psychologist, creator of the scientific breakthrough Gamma Mindset Programs and the author of two bestselling books; The Gamma Mindset and Peak Performance in 60 Seconds.
Chris runs a unique science based program to maximise employee energy and resilience which he also teaches on the MBA programme at the University of Westminster Business School in London.
In 2012 he developed 'The Gamma Brain Technique' – a mind-body coherence technique that puts you into a peak performance state known as Flow or The Zone in just 60 seconds. He has coached world champion athletes and business executives on peak performance and has a thriving private practice in Bristol. 
Schedule
7:00PM - Doors open
7:30PM - Welcome and warm-up
7:45PM - Main speaker
8:30PM - Break
9:00PM - Member Announcements
9:05PM - Main speaker (continued)
10:00PM - End
You are welcome to stay until about 10:30PM, when we usually go for a drink at Cafe Baba.
A finger buffet and hot drinks will be available throughout the evening.